The Our Faith STO is the single largest need-based tuition assistance source for our Catholic schools in the Archdiocese of Dubuque. With everything that's happening, we need your help to make sure our Catholic school families have the support they need to keep their kids in our schools.Please take a look at our most recent annual report here to see the impact the STO has across the Archdiocese.For any questions, please contact Jeff Schneider at jeff.schneider@dbqarch.org or 563-556-2580 x219.Thank you and God bless!Jeff Schneider
Director of the Our Faith STO
Donate
Thank you to all who have supported the Our Faith STO in 2020!
Please help us spread the word about the STO!
Sacred Heart Gala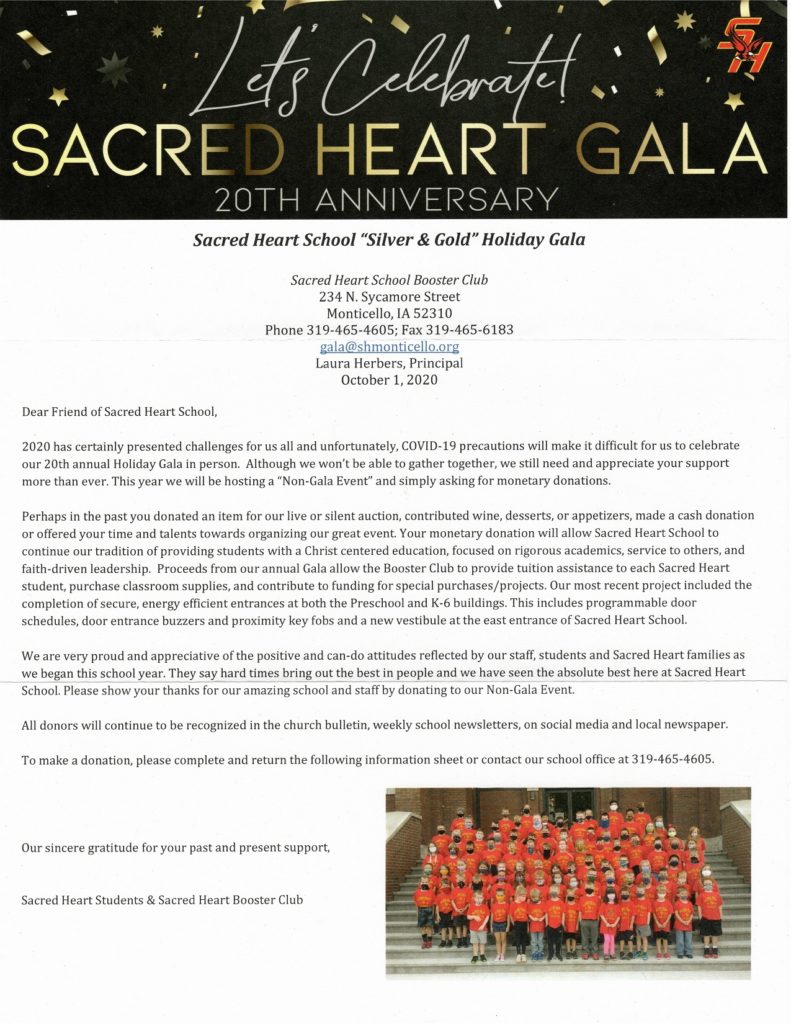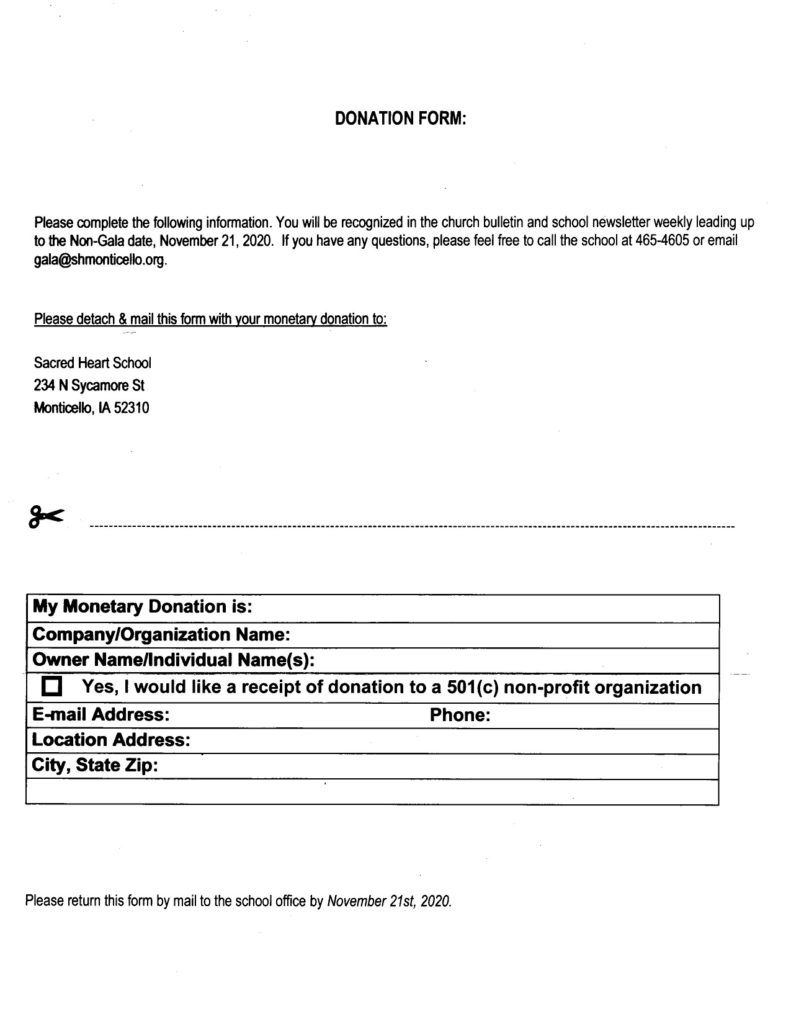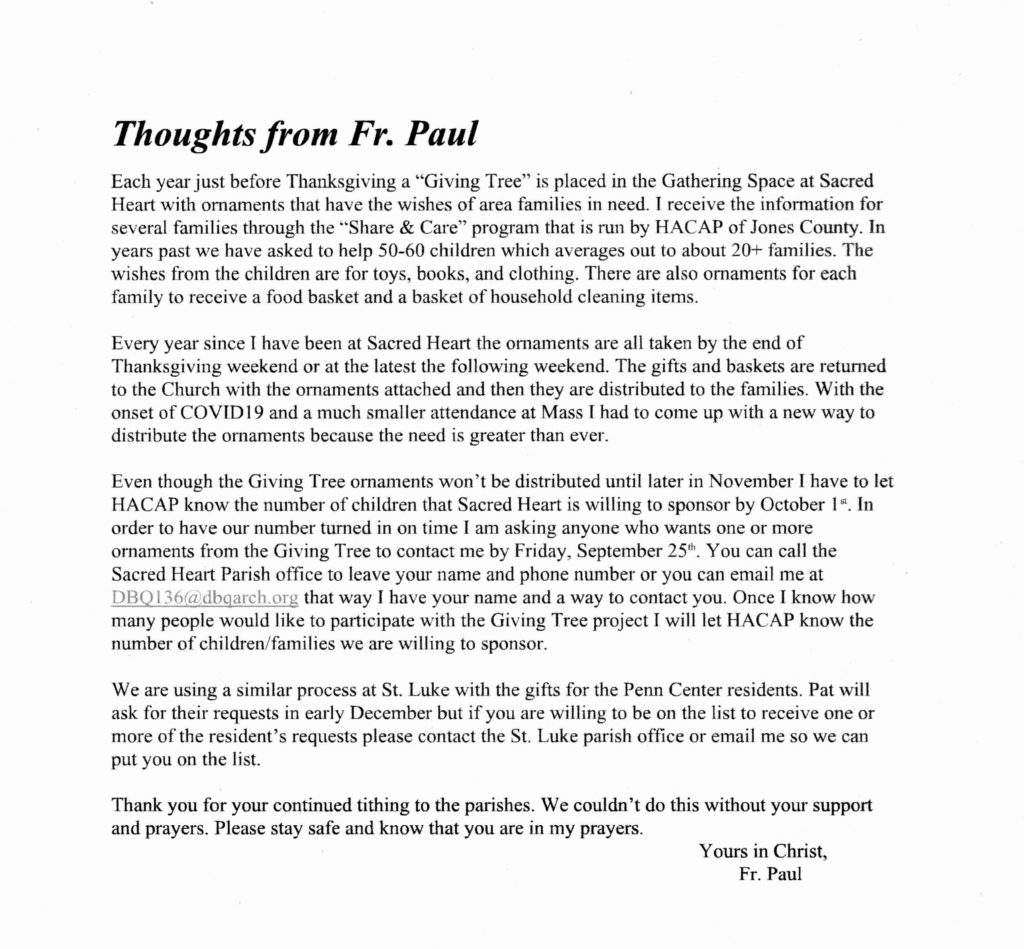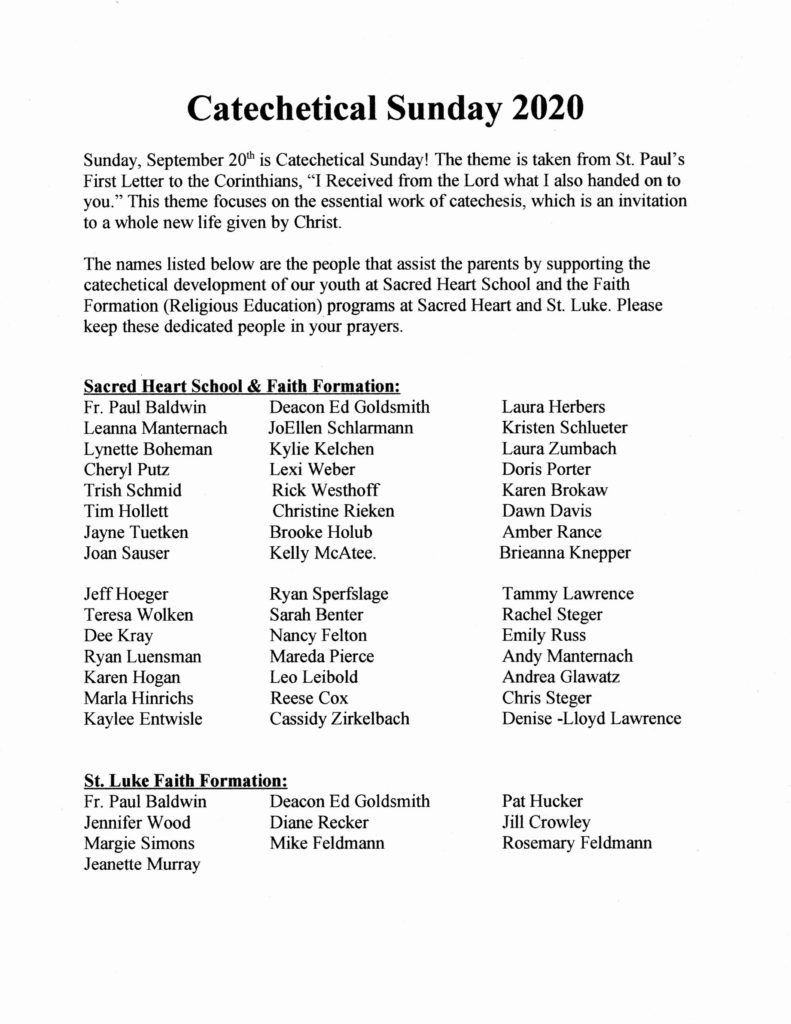 Derecho Aid
On 10 August 2020, a freak storm, called a derecho, hit Iowa with hurricane-force winds. The storm caused severe damage to crops, businesses, and homes in nine of the southernmost counties of the Archdiocese of Dubuque that have all been declared Federal Disaster Areas. Tens of thousands of individuals and families, more than a week afterwards, are still without power, and so no refrigeration for food or air conditioning for relief from the heat. Many are also forced to find temporary shelter, such as tents.
The extent of damage is still being assessed. But we do know that the individuals and families most severely affected are the poor, and those struggling with the financial impact of the coronavirus pandemic. And we know that the recovery process will be lengthy and costly. These folks are relying on the generosity of their neighbors and on not-for-profit agencies, like Catholic Charities of the Archdiocese of Dubuque, for the help they need to survive.
Catholic Charities of the Archdiocese of Dubuque has set up a Derecho Relief Fund to provide direct relief to individuals and families, especially those vulnerable populations that have been disproportionately adversely affected. Absolutely all of the monies donated will go directly to help individuals and families, where it is most needed, with priority to those who aren't eligible for state and federal relief.
If you are able to help, please donate online using the following link
https://dbqarch.org/derecho-relief-fund,
or send your donation to: Derecho Recovery Fund, Catholic Charities, 1229 Mt. Loretta Avenue, Dubuque IA 52003.
Thank you in advance for your generosity, and for the prayers, and the offer of volunteer help. May God reward your generosity.
Stress on the Farm

Rural life is not all sunshine and green pastures. Here's a program geared specifically to stress on the farm from Iowa State University Extension and Outreach called Stress on the Farm. Learn more about signs of depression and suicide, and how you can encourage a friend or family member to seek help. When a friend or relative experiences trouble, such as a death in the family, financial losses, divorce, or serious illness, it's easier to stay away or remain silent than it is to help because you don't know the right words. Explore these tips and ideas on how to offer help in an uncomfortable situation.
If you prefer a one on one counseling meeting via phone or video, consider one of our great Catholic Charities licensed therapists.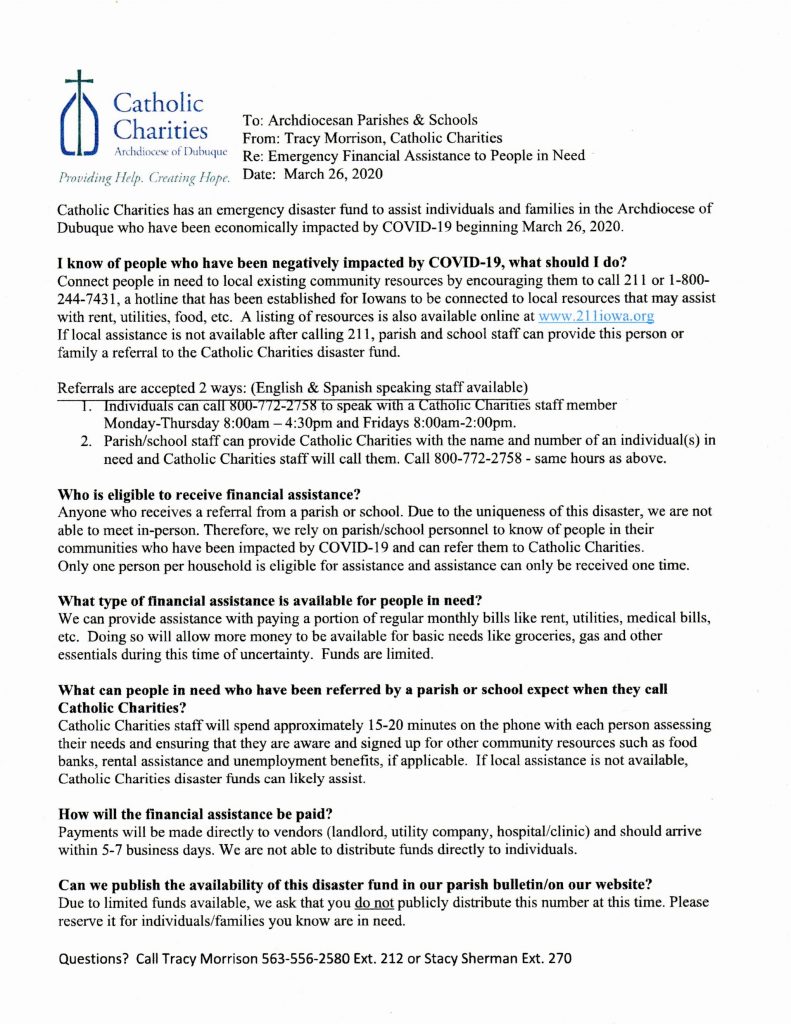 Return to Liturgy at Sacred Heart & St. Luke 5/31/2020
Sacred Heart and St. Luke's will be opening their doors for face-to-face liturgy services beginning the weekend of June 6-7. There are several health protocols that have been put in place. In order for you to make a decision about whether attending Mass in person is the right option for you and your family, we would like to outline our health and safety plan. One Mass each weekend will continue to be livestreamed on Facebook for those who do not feel comfortable or are unable to attend in person. Mass times are as follows:


Sacred Heart
Tuesday at 7:30 a.m.
Saturday at 5:00 p.m.
Sunday at 8:30 a.m.
St. Luke's
Thursday at 8:00 a.m.
Sunday at 10:30 a.m.
The Church doors will open 30 minutes in advance and will be locked when capacity is reached. There will be no public recitation of the Rosary said before Mass, and we ask that there is no congregating in the gathering spaces or Newman Hall before or after Mass. The Church will be disinfected after each Mass. Mass will be shorter, so we ask that restrooms are used only in emergencies, as they will need to be disinfected by the Ushers after each use.
We will be following guidelines for social distancing by roping off every other pew, maintaining space between individuals and 6 feet between parties, and limiting attendance to 50% of the Church's capacity. The doors will be locked and a sign posted when capacity is reached.
We will be limiting physical contact as much as possible through elimination of the following: holy water fonts, receiving Holy Communion on the tongue, receiving the Precious Blood, use of hymnals, shaking hands, holding hands, and passing of the offertory baskets. There will be baskets at the entrances of the Church where you should drop your donations as you enter for Mass.
Those in line for Holy Communion will be spaced apart and wear masks until after they have received the host in their hand, at which point they will step aside, lift their mask to place the host in their mouth, and replace the mask before returning to their seat.
Hand sanitizing stations have been ordered, and sanitizer will be available at the doors. We encourage parishioners to bring their own small bottle of hand sanitizer to use immediately prior to receiving Holy Communion in the hand.
Face masks are required for everyone including children and are raised only to receive Holy Communion and then immediately replaced. We will try to provide masks for those who do not have one but everyone is encouraged to have their own. If we provide one for you take home and do not leave it at the Church. Masks do not protect the person wearing them; they protect those around them. Please wear a mask as an act of love for others by protecting them, since people with no symptoms may still be able to transmit disease.
We are using the CDC guidelines to determine if attending Mass in person is safe for you and for those around you. These will be posted on the Church doors as a reminder. You should NOT attend Mass if any of the following apply to you:
Are sick or have an underlying condition
Work with or care for high risk people
Have been within 6 feet of a person with Covid 19 for at least 5 minutes or had direct contact with their mucus or saliva in the past 14 days
Have had ANY of the following symptoms in the last 48 hours:
Fever of 100.5 degrees or higher
Fever symptoms like alternating chills and sweating
Cough
Trouble breathing, shortness of breath, or severe wheezing
Muscle aches
Diarrhea
Sore throat
Loss of smell or taste, or change in taste
Headache
This is the current plan. As the situation and/or guidelines change, this plan will be re-evaluated and revised. Stay tuned!
May 31, 2020
Gracious and loving God, we thank you for the gift of our priests.
Through them, we experience your presence in the sacraments.
Help our priests to be strong in their vocation.
Set their souls on fire with love for your people.
Grant them the wisdom, understanding, and strength they need to follow in the footsteps of Jesus.
Inspire them with the vision of your Kingdom.
Give them the words they need to spread the Gospel.
Allow them to experience joy in their ministry.
Help them to become instruments of your divine grace.
We ask this through Jesus Christ, who lives and reigns as our Eternal Priest.
Amen.
Hand of God, out of love, for our need, watch over us